ANOTHER DAY ANOTHER LIST FOLKS; you get the drill at this point. I rank my 10 favorite somethings that came out in 2019. This time it's movies… There's actually a lot that I haven't yet seen which I know are on a lot of other peoples best movies of 2019 list but I just haven't had the time. So this list is based PURELY on films I have actually gotten around to seeing. Sorry Once Upon A Time in Hollywood and Toy Story 4, I just didn't have the time to see you in the end so you can't be on my list… My bad.
Let's get to it shall we?
10) Joker
Joker is arguably the best film of the year and the way it tackles mental health issues disguised as a comic book villain movie is such an expertly crafted movie that it's the best movie I saw all year from a critical standpoint.
HOWEVER…
I am feeling pretty Christmassy and happy at the moment, and in terms of ranking films I enjoyed the most, I have to put this one right at the bottom because as much as I think it's the best made film of 2019, I simply didn't enjoy it because of the heavy overtones and some of the issues really hitting home with me.
It deserves a spot on my list of best films, but as I say, I am ranking based purely on my enjoyment alone. So there.
9) Captain Marvel
Okay this one is going to ruffle some feathers as I know some of you really didn't like Captain Marvel very much, but for me it has to come into my top 10 just for the memories I have attached to it.
When I saw Captain Marvel, it wasn't in my local Odeon Cinema or in my house in my PJ's like the majority of the films on this list. I was in the Universal Studios Cinema in Orlando, and I had a bucket of buttery popcorn and it was one of the final days of the best week of my life.
I had spent a whole week walking around Universal Studios, fanboying over films and shows that I grew up with and loved, and this experience was just absolutely perfect for me, and that's why it sits comfortably in my Top 10, and I won't let anyone argue with me.
So there. Again.
8) Aladdin
Aladdin is my favourite Disney Movie by a long shot, and it's what I usually watch when I'm feeling sick or hungover, and it helps comfort me and just make me feel like a kid again. With this in mind, I was really unsure going into the live action remake of one of my all time favourite films, and the more I saw about it from Will Smith's Instagram the more I disliked the whole thing.
BUT I LOVED IT. All the musical numbers were redone to the actors' strengths so they were not just carbon copies of the original, and it was superbly acted all the way through. Yes, I understand that Jafar doesn't really feel like the terrifying villain he once was, but I loved it all the same.
7) US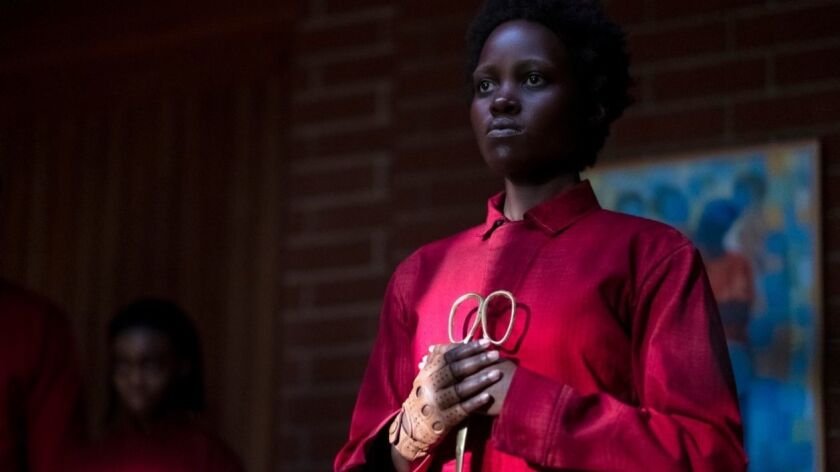 Jarring, terrifying and phenomenally acted. US is the followup horror/thriller from Writer/Director Jordan Peele. I genuinely liked US way way way more than Get Out, and I found it far more unsettling at the same time.
US is one of my favourite horror films of all time now, and one of those films I could revisit once a year and still not get bored of the terror. I don't want to say too much about US because it's one of those movies where the real proof is in the pudding, and the surprises that come with it are the best.
I got 5 on it.
6) Rocketman
On the surface Rocketman is a simple movie that dramatises and chronicles the life of the immortal Elton John… However if you take a look below the surface and notice that Elton used this film as a vehicle to discuss his addiction, depression and suicide attempts that came with his accelerated rise to fame, you realise that Rocketman is one of the most harrowing, beautiful movies of the past decade.
I felt genuinely sad during this whole story, and before now I only ever saw Elton as this megastar with loads of money who did some work with charity because of a brush with AIDS. What I never realised was what a horrible, hard life the man had throughout his whole life.
Also, The music is awesome, and Elton really is the king.
5) John Wick 3: Parabellum
Christ, this film is absolutely brutal. The 3rd entry into the John Wick franchise took everything that came before it and just added even more violence into the mix. In the 3rd iteration, John is now on the run after breaking the rules of the guild and assassinating someone on Hotel property.
But do we really care much about the storyline of these? Or is it simply a framing device that allows us to watch Keanu Reeves beat seven bells of shite out of everyone that get's in his way? For me it's both, and I love that this film sets up where John might go in future instalments.
Literally, Just keep pumping these out and you will get my money.
4) The Dead Don't Die
My wife HATED this movie and I genuinely can understand why. The film is so weird and out there that I really get why a load of people didn't like it – It didn't help that the marketing made it out to be a simple Zombie comedy with a stellar cast.
What it delivers is the weirdest, most meta dark comedy I have seen in a long time. Also it jumps a few places for me by simply having Adam Driver in it…
WHICH LEADS ME NICELY INTO…
3) Marriage Story
This is the most recent movie I have seen on this list, and I absolutely adored it. Adam Driver and Scarlet Johansson paint such a raw, emotive picture of a couple going through a divorce which just keeps going wrong. It's so superbly acted and scripted that Marriage Story had me gripped throughout.
Both actors really flex their acting credit and show audiences that they are a lot more than their Marvel/Star Wars counterparts, and had me feeling so emotional throughout.
What I loved most about Marriage Story was that it doesn't paint the usual black and white picture we usually expect in a divorce, where one person is the villain and one is just looking after their child; instead it shows two perfectly normal people caught in a war that gets worse thanks to vindictive divorce solicitors.
For more info on why I loved Marriage Story, check out my full review here.
I loved it.
2) Avengers: Endgame
Most people's favourite MCU film and a lot of people's favourite film of all time, Endgame delivers on all the promises we saw from Infinity War, and delivers the biggest Marvel film to date.
Endgame showed us that Feige and co. are not afraid to take big risks when it comes to the MCU, and will happily kill off some of their key characters in order to progress the overarching narrative. Throw that in with some killer performances from Robert Downey Jr, Chris Evans, and literally every woman in that movie, and you have the key for MCU success.
The repercussions of this film will see the MCU changed forever, and it was delivered in a package that was so perfectly wrapped, blending together action and humour, that it's subjectively the best MCU film of 2019…
But I can't be subjective here, so:
1) Spiderman: Far From Home
IT'S SPIDERMAN. As with last year's top games of the year, I simply cannot be subjective when it comes to the wall crawling menace. Heck, I'm even currently writing this list whilst watching Far From Home on the TV (thanks for the birthday gift Stu!) wearing my Spiderman Christmas jumper (THANKS NUMSKULL!), so it gives you a real idea of my love for my boy Peter Parker.
Yes, I know Endgame is the best MCU movie, but I don't care because Spiderman will always, ALWAYS be my number 1. Also Jake Gyllenhaal as Mysterio was such a perfect casting, because Gyllenhaal is such a fantastically underrated gem that oozes greatness in everything he does.
Honourable Mention: Star Wars: Rise of Skywalker
Look, at the time of writing the film isn't out yet, and I have gone into it pretty much blind at this point, however I have LOVED the last two films in the currently trilogy and I know that JJ will deliver with Rise of Skywalker. Will it be enough to push Spiderman off the top spot for me? Probably not, because I can't be subjective with Spidey… But it definitely has the potential to come in on that Number 2 slot without doubt.
Stay tuned to Respawning.co.uk to find out mine and Javier's thoughts once we have seen it on the midnight release!
Have I missed your favourite film of 2019? Is it UNACCEPTABLE that I have missed out a few key films in the list? Show me your rage in the comments below and perhaps I will make time for your favourite over the festive period.
MERRY CHRISTMAS NERDS!
Become a Patron!